Airplane Raffle
To benefit MASM's educational efforts
Tickets may be purchased at the Hyannis Museum when open or via the below form.
Thurston Teal Amphibious Aircraft 
This classic 1970 Thurston Teal is a 2/3 place all aluminum amphibious airplane valued at $58,500. It has fewer than 1,350 hours of total time. The 150 HP Lycoming engine and Hartzell prop have ~130 hours since overhaul. In addition, the lucky winner will receive an additional $3,000 to put towards a tailwheel endorsement and seaplane rating. 100% of the funds raised will go towards supporting the Massachusetts Air and Space Museum's educational services.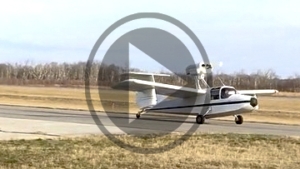 Contest Details
5,000 tickets will be sold at a cost of $65 each or three (3) for $150. Winners will be determined by random drawing to take place at the Massachusetts Air and Space Museum in Barnstable, MA on July 12, 2023  To Enter, you must be at least 18 years of age at the time of purchase and be a permanent resident of one of the 48 contiguous US states.
MASM THURSTON TEAL AIRPLANE RAFFLE OFFICIAL RULES
The Massachusetts Air and Space Museum, Inc. (MASM), which is a Massachusetts nonprofit corporation and is tax-exempt under Section 501(c)(3) of the Internal Revenue Code, is conducting a fundraising raffle to support the organization's educational purposes with 100% of the proceeds raised through the Raffle going to support these efforts. You can learn more about the MASM Mission and Program by visiting its website: www.massairspace.org.
By participating, entrants agree to be bound by these Official Rules and by the decisions of MASM, which shall be binding and final as to all matters related to the Thurston Teal Raffle ("Raffle").
The Raffle is conducted in the Commonwealth of Massachusetts and is open only to participants who are at least 18 years of age at the time of purchase and who are legal residents of the 48 contiguous states in the United States (excluding AR, CA, KS, LA, NJ, UT, and WA). MASM employees, board members, volunteers, and members of their intermediate families are not eligible to participate in the Raffle or to win any prize. The Raffle is being conducted and governed pursuant to Massachusetts' law and is void wherever prohibited by law.
Purchasing Raffle Tickets All Raffle tickets will be $65 each or three for $150.
Tickets can only be purchased in the Commonwealth of Massachusetts by eligible persons initiating a personal contact with an approved MASM representative as outlined on MASM's website and following the directions to purchase raffle tickets. To be valid, a raffle ticket purchased online and emailed to the recipient must be printed by the eligible entrant at the time of purchase. Entrants purchasing Raffle tickets online must digitally sign their Entries, using the procedures specified. All purchasers of Raffle tickets must provide their names, addresses, telephone numbers, and e-mail addresses at the time of purchase. By purchasing a ticket, each participant affirms they are over 18 years of age and are a resident of the 48 contiguous states in the United States (excluding AR, CA, KS, LA, NJ, UT, and WA) and agrees to be bound by and adhere to the terms and conditions contained in these Rules.
Raffle tickets are non-deductible. No portion of the ticket price may be deducted as a charitable contribution for federal income tax purposes. There are no complimentary Raffle tickets. All tickets shall be sold for the full-established ticket prices.
2. Maximum Number of Raffle Tickets Eligible participants may purchase as many raffle tickets as they wish. However, only a maximum of 5,000 tickets will be sold. Every ticket will be issued with a discrete number and that number is not repeated. Purchasers cannot select specific numbers. If you buy more than one ticket, each will have a different number on it. The ticket numbers will be either personally given or emailed to the address you provide. We are not responsible for any lost or misdirected email. If you do not receive your raffle ticket within 5 business days after purchase, you should contact MASM by email at raffle@massairspace.org or call at 508-827-6300.
3. Time to Purchase Raffle Tickets The deadline to be eligible for the drawing is to purchase a ticket or tickets before 5,000 tickets are sold or by June 30, 2023, unless extended, whichever comes first. A ticket is "sold" for purposes of calculating the number of tickets sold when MASM receives full payment for that ticket. Anyone attempting to buy a ticket after 5,000 tickets have been sold will have their purchase fully refunded. Except for refunding the purchase, MASM is not responsible if your purchase cannot be processed because MASM had already sold 5,000 tickets if your payment arrives after 5,000 tickets have been sold, or your payment arrives after the deadline for purchase.
4. Drawing The winners shall be determined by a random drawing to take place at the Massachusetts Air and Space Museum in Barnstable, Massachusetts on July 12, 2023, at 2 p.m. The location, date, and time will also be posted on the MASM website: www.massairspace.org. Fundraising Software, Inc. will conduct the raffle drawing through their automated software that will do a digital random winner selection. The winners do not have to be physically present at the drawing to win.
5. Prizes:
There are three prizes:
The grand prize is a classic 1970 Thurston Teal Airplane (N501ME). This is a 2/3 place amphibious airplane with fewer than 1,350 hours of total time. The 150 HP Lycoming engine and Hartzell prop have ~130 hours since overhaul
The second prize is a Bose A20 Aviation Headset that is valued at $995.95.
The third prize is an iPad MINI with 256 GB with Wi-Fi, plus a one-year subscription to ForeFlight Pro-Plus. This prize is valued at $689.98 (cellular service is not included).
All prizes must be claimed by August 30, 2023. Winners may not substitute or transfer or redeem any prize for cash.
6. Notification of Potential Winners need not be present in person at the drawing in order to win. The potential winners will be notified by phone and/or by email and/or USPS mail and all participants will be notified of the winners by posting on the MASM website: www.massairspace.org. A potential winner will be disqualified if the winner cannot be reached after a reasonable effort has been extended, is determined to be ineligible, or cannot or does not comply with our Official Rules. MASM will have made a reasonable effort to reach a potential winner if it has made at least two attempts to contact the winner via the phone and/or email address provided when purchasing his/her ticket. If a potential winner is disqualified, declines acceptance of the prize, or fails to claim their prize by the deadline, MASM will redraw to identify another potential winner for that prize.
The Grand Prize awarded must be claimed and accepted in-person in Massachusetts with the winning Raffle ticket at Massachusetts Air and Space Museum in Barnstable, Massachusetts at a mutually agreed upon time. The Grand Prize is to be picked up by the potential winner within 30 days of the drawing. MASM will store the airplane for 30 days. Upon delivery of the prize, responsibility for any risk of loss associated with the airplane, as well any insurance, is the sole responsibility of the official winner. Once accepted, including payment of any federal and Massachusetts taxes due and completion of required documentation, MASM may, at its discretion, assist in arranging for the transport of the airplane, if needed, following acceptance of the airplane. All other prizes will be shipped to their respective winners. Prior to shipment each potential winner must return their IRS W-9 Form and confirm an address for shipment.
7. Determination of Official Winners MASM shall have the sole discretion to determine whether each potential winner is an official winner of a prize. MASM's decision concerning the identity of all official winners shall be final and binding.
8. Release of Publicity All official winners agree and consent to use by MASM, except where legally prohibited, of their name, address (city and state only), photograph, image, voice, and/or other likeness and prize information for promotional purposes without further compensation and without notice, review or approval in all media, including on MASM's website, now known or hereafter discovered.
9. Taxes Each official winner is solely responsible for all taxes including federal, Massachusetts, and local taxes, if any, as well as registration, insurance, and other expenses incurred with claiming the prize. Appropriate reporting forms will be provided to the official winner. In order to award the prize, the official winner must complete all documents including FAA Aircraft Registration Application, IRS Form W-9 Request for Taxpayer Identified Number and Certification, IRS Form 5754, if applicable, Affidavits and Releases, and other documents required to take possession of the prize. The winner will receive an IRS Form W-2G from MASM (for the calendar year the prize was awarded) for the total value of the prize as determined by MASM. If a winner chooses to forfeit his/her prize, he/she must do so prior to taking possession of the prize. The IRS requires withholding for non-cash prizes with a value exceeding $5,000 after deducting the cost of the winner's ticket. The winner pays the withholding tax to MASM at the rate of 25% of the prize value. Massachusetts state withholding tax may be required. The withholding tax must be paid prior to possession of the prize.
10. No Warranty MASM makes no warranties or representations regarding the airplane or other prizes being raffled other than those made herein. The winner of the aircraft has the right to inspect the airplane to determine its suitability and airworthiness prior to accepting the prize.
11. Release of Liability By entering this raffle, each entrant releases the Massachusetts Air and Space Museum, Inc. (MASM), it's directors, officers, employees, volunteers, and agents from any and all liability whatsoever, and holds MASM harmless against any and all claims, demands, injuries, losses, costs, expenses or damages of any kind (including, without limitation, attorney's fees) resulting from or caused by, whether in whole or in part or directly or indirectly, participating in this raffle or by winning any prize or resulting from acceptance, possession, use or misuse of any prize, the rules and their application thereof, all means of ticket sales, raffle process, and/or winning ticket selection. In no event shall the Massachusetts Air and Space Museum, Inc., its directors, officers, employees, volunteers, and agents be liable for any loss or damages of any kind, including injury or death relating to or from participation in the raffle or the use of any prize even if such loss or damages results from or is caused or contributed to by the fault or negligence of Massachusetts Air and Space Museum, its directors, officers, employees, volunteers, and agents. A raffle entrant's sole and exclusive remedy for any claim against MASM arising out of the sale of tickets or the conduct of the raffle shall be limited to the return of the purchase price paid for his or her ticket(s).
12. Governing Law; Severability The raffle and these Official Rules shall be subject to and governed by the laws of the Commonwealth of Massachusetts. If a court of competent jurisdiction finds that any provision of these Official Rules, or their application to particular persons or circumstances, is invalid or unenforceable to any extent, then the remainder of these Official Rules, and the application of all of these Official Rules to other persons or circumstances, shall not be affected by that determination and shall remain enforceable to the fullest extent permitted by law.
DEPOSITING RAFFLE TICKETS OR RELATED MATERIALS IN THE FEDERAL MAILS IS A VIOLATION OF FEDERAL LAW AND COULD LEAD TO CRIMINAL PENALTIES.
Entry Request Form