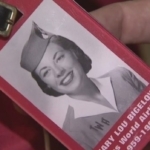 Mary Lou Bigelow, former Trans World Airlines (TWA) flight attendant, attended the grand opening of the TWA Hotel at JFK on September 28, 2019 and from October 2-6 joined 1000+ attendees for a TWA Silver Wings reunion.
The landmark TWA Flight Center is a fabulous building designed by Eero Saarinen. The historic front building has been totally renovated but keeps the charm of the 1960s with bundles of TWA memorabilia, including all of the uniforms throughout the years. Two hotel wings house 512 rooms and are set to the rear.
Note the L-1649 Constellation parked behind the window of the sunken lounge. Climb the stairs and sip a cocktail while checking out the cockpit. Sorry, but it won't take off – it is minus engines!
There is lots to see and do at the hotel – so don't miss this venue for a stay or just a tour on your next trip to New York!
CBS New York TV spot: