Ft. Lauderdale, FL – March 30, 2017 – The National Aircraft Finance Association (NAFA) honored Joseph Dini and Louis Seno with the 2017 Lifetime Achievement Award at the 46th annual meeting held at the Harbor Beach Marriott in Ft. Lauderdale, FL.
"I am honored to present the 2017 Lifetime Achievement Award to Joe Dini and Lou Seno," said Ford von Weise, president of NAFA. "This is the first time in the history of NAFA that we are presenting this award and I couldn't think of two more deserving people than Joe and Lou."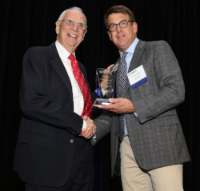 Joseph Dini was the first award recipient. Dini experienced a very successful 40 year plus career in business aviation finance, having founded the business aviation finance groups at First NH Bank, FINOVA, GMAC Commercial Finance, Merrill Lynch Capital, Sovereign Bank and lastly establishing the successful member aircraft finance group at the Aircraft Owners and Pilots Association, known as AOPA Finance. Not only was he successful in his own career, but he also served as a mentor to many aspiring business aviation professionals, including the current heads aircraft finance at three top banks. Dini was also instrumental in establishing Boston Aviation Leasing and is currently on the Brown Aviation Leasing Advisory Board.  He – along with the other Lifetime Achievement Award recipient Lou Seno – was an early member of the National Aircraft Finance Association (NAFA) and was elected as its president twice for two separate non-concurrent terms. Dini – along with Seno – is credited for dramatically expanding the membership to include both general and business aviation and helped to develop its robust education program. Dini is also past elected member of the Town of Lexington's School Board and a Town Meeting Member. He resides in Bedford, MA with his wife.
The NAFA Lifetime Achievement Award was established to recognize the lifetime achievements of individuals within the aircraft Finance, Legal and Insurance community to recognize their extraordinary professional contributions of leadership, time, ideas and mentoring of association members.
The Award is bestowed by the National Aircraft Finance Association (NAFA) during its Annual Conference.
http://www.nafa.aero/articles/nafa-honored-joseph-dini-and-louis-seno-with-the-2017-lifetime-achievement-award
About NAFA:
The National Aircraft Finance Association (NAFA) is a non-profit corporation dedicated to promoting the general welfare of individuals and organizations providing aircraft financing and loans secured by aircraft; to improving the industry's service to the public; and to providing our members with a forum for education and the sharing of information and knowledge to encourage the financing, leasing and insuring of general aviation aircraft. For more information about NAFA, visit the website at visit www.NAFA.aero